Today am a Guest Designer for
Crafty and Green
. Thank you Tina for letting me be the quest designer today. Cant believe its Back to School time.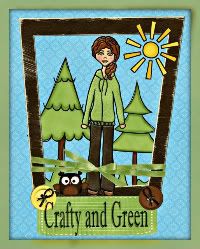 The theme was Back to School. :) I cant believe its that time of year. My oldest is in 2nd grade this year and my youngest is starting kindergarten this year. Over the summer we moved so we are in a new school this year and so far Katelyn loves her teacher and Emmalyn met her teacher yesterday and cant wait until next week when she starts. Here is a photo of both of my girls yesterday on Katelyn's first day.
For my back to school project I made four cards. They are all 5x5 inch square cards. I love how they turned out. I colored the same digi 4 times each different. I was tring to color them to match the pattern papers. My plan is to give these the girls teachers with gifts when I get them done.
The pattern paper is all from DCWV Grade School Stack.
The pencil pixie is from Whimsie Doodle in the free section. :) I love that they have a free section. They have several adorable things there. You can find their website
HERE
The different sentiment sayings are all from Cardz Tv Stamps Set "School Days". I Love Cardz Tv Stamps they are just amazing. You can find them
HERE
I hope you like my cards and please follow the links and pick up the digi as well as head over to Cardz Tv and pick up these lovely stamps. Thank you again Tina for letting me do this today. I cant wait until the next time.
Until Next time
Stay Crafty
Amanda